In this article:
Learn what "Free Electricity" really means
Understand how to find the "actual" electric rate
Interested in current Free Nights and Weekends offers?  Head on over to our Free Electricity Plans page. 
Can you really get free electricity in Texas? YES, you can.
By now you've noticed that most Texas electric companies are offering free power to get your business.  Free weekends, free nights, free Sundays… these are all good offers.  But is the electricity really free?  The answer: Yes and No. Depending on the electric plan you choose, "Free Electricity" can mean cash back, bill credits or a discounted electric bill. Some utility companies offer a lower electric rate and that "free day" is taken off the monthly bill. Some offer a higher rate and the "free electric" means reducing that rate. Right now, Direct Energy has a great deal for us all- FREE POWER WEEKENDS. With this plan, enjoy free power from Friday 6 PM to Sunday at 11:59 PM for an entire year. That's real energy savings!
Our Best Selling Free Electricity Promotion:
FREE POWER WEEKENDS by Direct Energy
Free electricity from Friday 6:00 pm to Sunday 11:59 pm
The most free weekend hours of any Texas electric provider!
Your rate stays the same for 12 months
Manage usage with the Direct Your Energy tool
Easy online account services
Earn Plenti points and other perks
Call Now to Enroll 1 (844) 852-8706
Prepaid Electricity with Free Electricity: Is it true?  Yes.
More and More Texas prepaid light companies are offering free electricity. But how does it work? Right now Pronto Power is now offering $100 in free electricity just for being a loyal customer. The $100 free offer means $10 per month paid out over 10. Pronto also offers forgiveness for those with bad credit. If you keep your lights on the entire 3 months and don't get disconnected, Pronto will let you transition into monthly billing without passing a credit check or paying a deposit. Call Monday through Saturday to switch to Pronto Power Energy. 1-844-294-6260
Quick Electricity offers a great selection of prepaid energy plans from to top electric companies in Texas: Pronto Power, Payless Power, Acacia Energy, Now Power, Vital Power, First Choice Power, Direct Energy and Frontier.

Does Free Electricity mean a cheaper electric rate?
Free Electricity promotions in Texas can be confusing. Always check the electric company's EFL or Electricity Facts Label to find hidden fees. Make sure you're aware of not only your energy rate, but also the TDU delivery charge. This is a charge that most people don't notice until the monthly bill comes.  Here's a quick example of how to read the EFL and make sure that you're getting the best electric rate and not just a gimmick.
Jane lives in Dallas, Texas. She wants a 12 month electricity plan and is interested in getting free power. She chooses the Direct Energy Power of 100 plan, but first checks the EFL. She finds this in the "small print".
The electricity rate for this plan in Dallas is 8.1¢/ 2,000 kWh
The EFL for this plan shows:
Energy Charge: 8.8¢ per kWh – Monday 12:00 am thru Friday until 5:59 pm & 0.0¢ per kWh – Designated Free Period
*Oncor Electric Delivery Delivery Charges: $5.25 per month 3.067¢ per kWh
The TDU or "Oncor Electric Delivery Charges" is what people miss, making the monthly bill seem higher than expected. ALWAYS check the delivery charge and add it to the advertised rate.
8.8 + 3.067=
11.867
The ACTUAL electric rate for the "Power of 100" plan in Dallas is 11.867¢ per kWh, not 8.1 as advertised. Misleading?  Maybe, BUT don't forget, you're getting 100 days free!  This equates to weekends free which actually makes this a pretty good deal for some.
Jane from Dallas chooses this Direct Energy deal, and is smart for checking the EFL. Be vigilant and if the free energy offer seems to good to be true, just read the fine print.
Need help selecting a Free Electricity plan in Texas, reading your electricity bill or the fine print? We can help.
Solar Energy: The Ultimate in Free Electricity
By now, you've noticed solar panels popping up all over Texas. Are solar panels a good financial investment?  We say yes. SolarCity, the largest solar company in America, offers great leasing programs that are pretty hard to pass up. Right now you can lock in a low, competitive rate with the option to buy your panels at market value after 5 years.
Why Choose solar panels from Solar City?
Control your utility cost
Predictable energy rate for years to come
Unbeatable warranty
Advanced Technology
Go solar and get a $249 Nest Learning Thermostat™ at no cost if your home qualifies.*
Earn referral cash
You'll get a free, no obligation solar consultation complete with a customized quote that shows what you'll save over the next 20 years.
If you choose to move forward, you'll sign your agreement locking in your predictable energy rate.
A SolarCity representative will survey your roof and an engineer will create your home's solar design.
SolarCity panels will be installed soon after and normally within one day.
Want more information about SolarCity solar panels?
Summer 2017 Free Electricity from Top Energy Companies
Power Bonus Plan by Acacia Energy 
Limited time 3 cent/kWH intro rate
$240 in Free Energy yearly!
Never a deposit or credit check
Switch without fees
Lights on today
Reliable Energy
Manage your account with the Acacia app
To order by phone, call 1-844-456-0601
Power to Go Free Weekends
48 hours of FREE electricity each Saturday.

You'll pay for the electricity you use on your terms

Option to switch to a special fixed-rate electricity plan after 60 days

Account management alerts

To order by phone, call 1-844-862-9687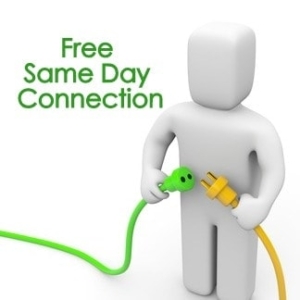 For Prepaid Electricity in Texas and $100 FREE call 1-844-294-6260
Free Electricity with the Lowest Rates in Texas
Looking for the cheapest electric rates in Texas?  Light companies in our state want your business. Houston, Dallas, Fort Worth, Waco, Abilene and Texas/Mexico border towns have many great options when it comes to electricity service and rates have never been lower. Shop and compare Texas electric rates by calling 1-844-294-6260 or view rates online!
How does Prepaid Electricity work?
Right now you can get free electricity with a prepaid electric plan. It's easy! Sign up now and activate your service for only $25!  Month to month, Quick Connect will reward you with money back just for being a loyal customer. Thanks to smart meter technology, prepaid electricity is simple and fast. Some customers have their lights on within a couple of hours. Why pay a traditional electric company hundreds of dollars for a deposit when you can pay-as-you-go?
NO ID or Social Security number is needed to start!
NO Credit Check ever!
ZERO DEPOSIT!  Enough said!
SAME DAY CONNECTION! This is a FREE service to you!
NO CONTRACT ever! Quit anytime!
NO HASSLE ELECTRICITY!
What our Texas FREE ELECTRICITY customers are saying:
"Quick Connect had my power on in just a few hours. Thank you." Sue, Spring

"I am really happy with this light company.  I only pay for the electricity I use." Marcus, Houston

"I love the balance updates you send daily!  I know when to recharge my account and there's never a problem."  Tara, Conroe

"As a student at the University of Houston, I struggle to pay my bills as it is. Quick Connect offers the lowest electricity rates without a deposit."  Van, Student at UofH Downtown
We Power Texas
Get Free Electricity in every energy deregulated city in Texas. Here's just a few:
Dallas, Fort Worth, Houston, Abilene, Addison, Arlington, Baytown, Bedford, Big Spring, Carrollton, Cedar Hill, Clyde, Corpus Christi, Corsicana, Desoto, Denton, Decatur, Eastland, Euless, Forney, Grapevine, Haltom City, Hurst, Irving, Katy, Lamesa, Laredo, League City, Lewisville, Mesquite, McKinney, Midland, Mineral Wells, Odessa, Paris, Plano, Port Aransas, Richardson, Richland Hills, Red Oak, Rowlette, Saginaw, San Angelo, Sherman, Spring, Stephenville, Sulphur Springs, Sweetwater,  Texas City, Van Alstyne, Victoria, Waxahachie, Waco, Wichita Falls, Van Alstyne, Victoria