Prepaid Electricity Houston
Pay As You Go Electric in Houston, Texas with No Credit Check, No Deposit and No Contracts
Prepaid Electricity Houston is fast and convenient
Buy Prepaid Electricity Houston in Minutes
Prepaid electricity Houston, otherwise known as pay as you go electric, is a fast and convenient way to get power to your home the same day without having to pay a deposit or sign a contract. Many short term apartment renters, college students and the elderly choose prepaid lights for their Houston residence because of the simplicity. Switching electric companies is easy. Simply choose an energy provider below, call by phone or open an account online with a credit card. Other payments can be made at a nearby payment center such as Ace Cash Express. Most prepaid electricity companies in Houston offer same day service and can connect you within the hour.
Best Prepaid Electricity in Houston, Texas?
Searching for the best prepaid electricity Texas? Quick Electricity offers a variety of prepaid electricity plans from cheap electric companies in Houston Texas. All of our prepaid light companies have competitive Houston area electricity rates and offer bonuses such as bill credits and free electric.
To set up your Prepaid Electricity Houston service, call now or browse our selection of prepaid electricity plans.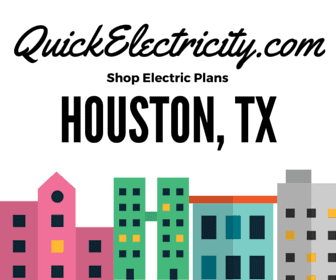 Prepaid Electricity Houston Plans and Rates
Houston Electricity Rates: Prepaid and Postpaid
In 1999, Texas began deregulating electricity markets throughout its cities. This resulted in more competitive prepaid electric rates in Houston which also means a larger (sometimes overwhelming) amount of energy providers and plans for consumers to sift through when looking for an electricity plan.
At Quick Electricity, we've selected the best energy plans for our Houston clients, and we've broken down the different kinds of plans so you don't have to find, compare, and interpret plans on your own. And since we work with a number of different electric providers in Houston, you still have the ability to make the final decision yourself, without starting your search from scratch and without any pressure from providers.
Quick Electricity has the best same day plans, fixed rate plans, and free electricity in Houston Tx. We work only with companies that have the lowest rates and the best customer service. Check out our top Houston Electricity picks. 
Fixed Rate Electricity in Texas
While a lot of people are switching to prepaid plans, some people like to keep their fixed rates and monthly billing. Quick Electricity offers a variety of fixed rate plans from top electricity providers Direct Energy, Bounce Energy, First Choice Power, Frontier Utilities, Tara Energy, Amigo Energy, and more. In addition to plans that come with moving deals, you can get green electricity plans, and no deposit electricity plans ranging from 3-months long to 60-months long. And if you can't find exactly what you want in a plan, try one of our Build Your Own Plan options.
Houston Business Electricity
Do you own a small business or full scale corporation in Houston? Are you looking to establish yourself with a new energy provider or to switch? Whatever your status, location, and particular energy needs, Quick Electricity helps you find the lowest business electricity rates.
Get started now: Email us with some brief information about your business electricity needs, and we'll get back to you quickly.