Avoid Bill Shock with a Fixed Rate Energy Plan


Summer's almost over, but the heat isn't. With soaring energy costs in Texas, many of us have taken a hit to the wallet. When you choose a fixed rate energy plan, you avoid unpredictable price spikes and worry less about your light bill. 
Quick Electricity was formed to help people navigate through the difficult and confusing process of choosing an energy provider in Texas. Since 2013, we've partnered with the highest rated power companies in the state to offer our customers the most reliable energy at the lowest price.
Here's our picks for the "Best Fixed Energy Deals in Texas" (September-October 2019):
1. Veteran Energy: 24 or 36 Months Fixed Rate + Nest Smart Thermostat
The perfect energy plan for long term homeowners
Why we like this plan:
Staying put a while? With Veteran Energy you can lock in super low energy rate for 24 or 36 months and receive a Nest smart thermostat at no additional cost. These two things combined are sure to keep your electric bill predictable during price spikes due to weather. 
Love giving back? When you choose Veteran energy as your electric provider, a portion of your payment will go to Texas non-profit military organization of your choice. To this date, Veteran Energy has given over $628,000 to Fisher House, Paws for Heroes, Texas VFW Foundation, Lone Survivor Foundation and Combined Arms.
The Fine Print:
This is a fixed rate product, meaning price protection against rate hikes 

There's a $300 early termination fee for the 36 month plan

With Veteran, you can make your energy 100% renewable

For more plan details, check out the Electricity Facts Label: Veteran Energy 36Mo EFL
Get This Plan:
Register for Veteran Energy 36 Months + Nest here at Quick Electricity! Or check out the best of Veteran Energy plans to find one right for you.
2. Direct Energy 12 Hour Power + Fixed Rate Energy Plan
A great free energy plan for night owls
Why we like this plan:
With the Texas summer heat, electric rates can soar at any time.  With this 12 month energy plan from Direct Energy, you get the same fixed energy rate for one year. That's pretty good considering the unpredictability of Texas weather. As an added bonus, your nighttime electricity usage is free. Got loads of laundry to do?  Try doing your high usage chores later in the evening instead of during the day when rates are higher. Do you watch tv late at night and sleep in until noon? This just might be the plan for you.
The Fine Print:
Your electricity is free every night from 9 p.m to 9 a.m for an entire year

With this plan, the electric rate is "pricey" during the day 

The energy rate is "fixed" protecting you from sudden spikes in price 

There is an early termination fee of $135

For more information, check out the EFL: Direct Energy 12 Hour Power EFL
Get This Plan:
Sign up for 12 Hour Power online now, or check out more Direct Energy Texas plans. For assistance, call Direct Energy at 844-852-8706.
Summary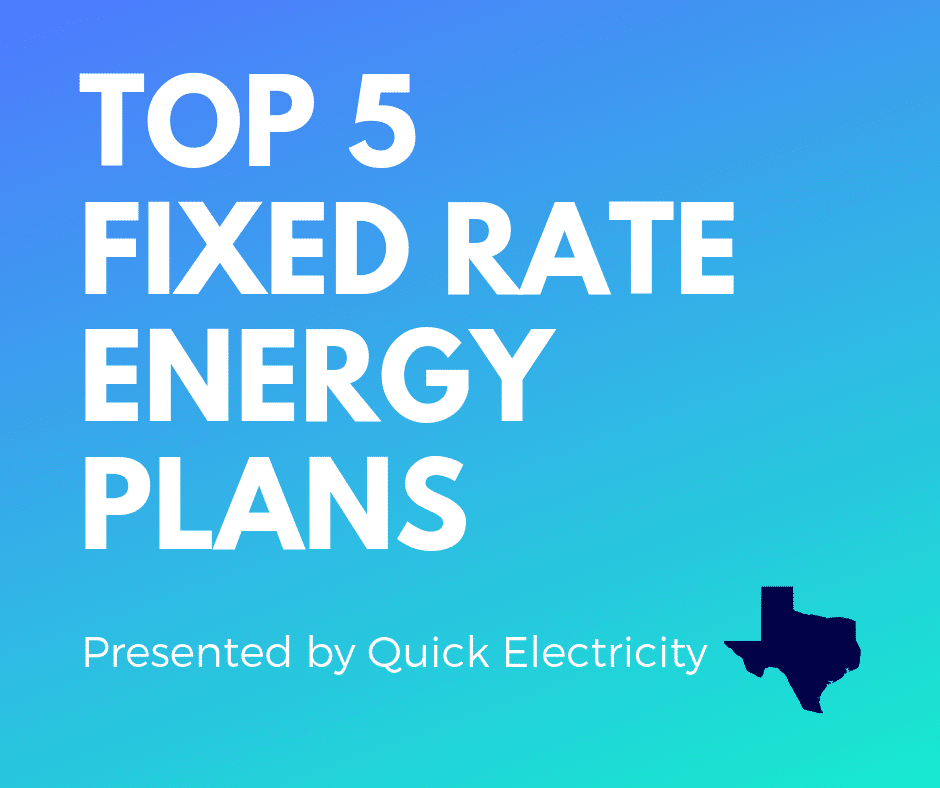 Article Name
Top 5 Fixed Rate Energy Plans (September 2019)
Description
Secure a low electricity price and worry less about rate spikes with a "fixed rate energy plan" from Quick Electricity.
Author
Publisher Name
Publisher Logo