Texas Prepaid Electricity & Fixed Rate Energy Plans
Pay As You Go with No Credit Check or Deposit
Quick Prepaid Electricity 
Prepaid energy is perfect for people who prefer to pay ahead for their electric service rather than receive an end of the month bill. Benefits of prepaid lights include a fast, same day electric connection, avoiding a credit check, zero down, daily usage reminders, easy payments and in some cases, free power. Our service territory includes the Dallas/Fort Worth metroplex, Houston and surrounding areas, Abilene, Corpus Christi, Galveston, Odessa, Waco, Lewisville, McAllen, the Rio Grande Valley and 400+ Texas towns in between. Call us now (877) 509-8946 to sign up for prepaid energy or order online day or night.
"Choosing prepaid energy from Quick Electricity was a smart move. As a working mom with a strict budget, I prepay for electric when I can. My energy account balance and usage is texted to me daily and adding money is easy online. I recommend pay as you go electricity to anyone trying to save on their light bill. "
20% Off Prepaid Electricity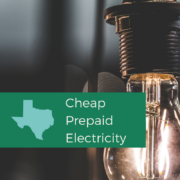 Looking for the cheapest prepaid electricity rates in Texas? With Quick Electricity, you can take 20% off your light bill when you choose a prepaid electricity plan  and keep your account balance above $35. It's that simple.
Sign up for the Flex Pay Energy Discount and start saving money today.
No Credit Check
Same Day Connection
Affordable Rates
Lights on for $39.99
Prepaid Lights – Same Day Service
Pay As You Go Electricity is convenient and fast
Prepaid electric, or "pay-as-you-go" is a affordable choice for people with short term living arrangements as well as those wanting to eliminate light bills and need their lights on the same day. Prepaid electricity in Texas is rapidly growing in popularity. Thanks to smartphone apps, Texas college students are choosing to prepay for a fast, easy connection and payment. With smart meter technology, homeowners and renters can easily monitor, regulate and conserve their usage which saves money. Quick Electricity has energy plans to suit the customer preparing for an upcoming move, serving in the military, looking for green energy solutions, or simply wanting to take it month-to-month with no deposit. Don't fit any of those molds? We can set you up to build your own energy plan!
The Best Light Companies in Texas
In Texas, you have the POWER To choose your prepaid electric company
Quick Electricity offers a fast, easy way for Texans to shop and compare prepaid electricity rates from the top energy companies across the state.  In addition to the major metros of Dallas/Fort Worth, Houston, and Austin, we serve many more deregulated areas. Shopping for Texas electricity has never been more convenient.
A few of the deregulated cities we serve in Texas:
Abilene, Bedford, Brownwood, Corpus Christi, Corsicana, Eastland, Galveston, Grand Prairie, Laredo, Lewisville, McAllen, Mesquite, Midland, Mineral Wells, Odessa, Paris, Richardson, Rowlett, Saginaw, San Angelo, Tomball, Tyler, Waco, Wichita Falls.
Energy Deregulation in Texas
What Does Energy Deregulation Mean for You?
Energy Deregulation simply gives Texas residents the choice to select which electricity provider they want to use. In regulated cities, the state government restricts utility companies to only sell in their designated areas, taking the free market out of electricity. Texas deregulation gives the decision back to the consumer, and we're happy to help make that decision easier.
Take advantage of living in a deregulated area and compare providers with Quick Electricity. We help you find the best plan for your needs and make setting up a breeze. For more on deregulation and fun energy tidbits, visit our Quick Electricity blog.
Prepaid Light Companies in Texas- Dallas, Fort Worth, Houston, Waco, Corpus Christi and beyond