What is Pay As You Go Electricity?
Pay as you go electricity is a convenient way to access to electricity in a way that allows for more freedom, less surprises, and more money in your pocket.
Purchasing this type of prepaid electricity plan means you don't have to wait until the end of the month to see how much you owe for your overall consumption. For many people, the bill can be shocking. Pay ahead and worry less about your budget.
There's endless reasons to choose Quick Electricity. 
Low, first time payment of only $29
No contract or long-term commitment
No credit check or deposit, ever
Inexpensive electricity rates keeps more cash in your wallet
Conveniently manage your account with your cell phone
Same day electricity—no connection fee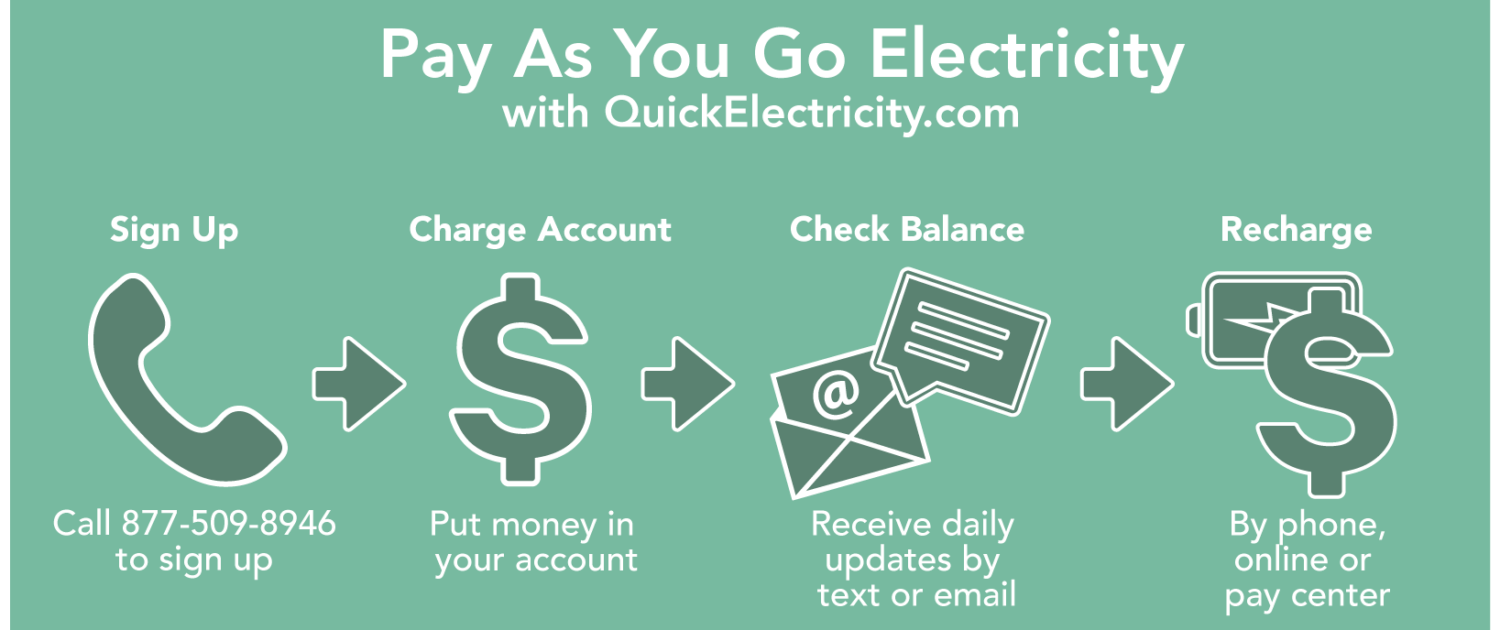 How does Pay As You Go Electricity work?
Getting started with pay as you go electricity is simple and easy with Quick Electricity! All it takes it four easy steps for you to choose a plan and get your lights turned on today.
Texas Pay-As-You-Go Electricity: Houston, Dallas/Fort Worth
The Quick Prepaid Electricity service area includes over 400 cities in Texas including:
Dallas, Fort Worth, Arlington
Plano, McKinney, Frisco
Houston, Baytown, Conroe, Sugar Land, The Woodlands
Corpus Christi
Galveston
Killeen, Copperas Cove, Harker Heights
Laredo, McAllen
Midland, Odessa
Paris, Tyler
Waco
Wichita Falls, San Angelo, Stephenville
What Are the Benefits of Pay As You Go Electricity?
If you're used to purchasing energy from large retail electricity providers, the idea of prepaid electricity might sound too good to be true! Pay as you go power plans have many different benefits including:
Saving you money
Putting you in control of your energy usage and bill
No credit checks, despotism and contracts
The ability to connect the same day you choose a plan–sometimes in a matter of minutes!
Is Pay As You Go Electricity Cheaper?
It can be! Pay as you go electricity makes you more aware of your electricity usage and the associated costs. So, although prepaying may cost a touch more, you may find you can pay less for electric! Knowing your daily usage will encourage you to monitor appliances and lights more carefully and to turn off things you are not using, thus saving money on your electric each month.
Is Pay As You Go Electricity More Expensive Than Fixed Rate Contracts?
Pay as you go electricity does not require money down for a contract or other reason, so you will see a slightly higher cost per kilowatt-hour. However, there are no hidden fees or deposits, so you won't have additional surprises that you would with a traditional monthly service and bill. Pay as you go electricity also makes you more aware of your energy expenditure, which usually decreases usage and costs in the future.
How Do I Know When It's Time To Pay My Prepaid Electricity Bill?
Once registered, you will receive daily updates via text or email to let you know your account balance and energy usage. You can also check your account and recharge it any time by logging in and making a payment online through the payment center, by calling our customer service line, or by utilizing a payment center (including Ace Cash Express Texas locations).
If you're unsure about whether pay as you go electricity is right for you, ask yourself the following questions!
Do you need electricity today?
Are you unable to pay a deposit due to poor credit?
Are you renting for a short period of time and want to avoid contract?
Have you lost your ID or are you unsure of your social security number?
Would you like to say goodbye to outrageous end of the month electric bills?
If you answered YES to any of these questions, prepaid electricity is right for you.
Choose From the Best Prepaid Electricity Plans in Texas
At Quick Electricity, you can choose from a variety of different prepaid electricity plans to fit your needs.
Unlike large retail electricity providers, our company will never run a credit check, and no deposit is required to connect your service. That means you and your family can purchase a plan with Quick Electricity and have the lights turned on the same day—without the additional cost of an expensive deposit!
Ready to Give the Best Pay As You Go Electricity Plan a Try?
We take care of our customers and their energy needs at Quick Electricity. Our friendly customer service agents are here to help you find the cheapest pay as you go electricity rates across Texas so you and your family can enjoy an affordable energy and quality service.
*Our current promotion of "20% off your electric bill" is available only to customers that keep their account balance above $35 at all times. Call us for more information regarding our money saving offers.